Biography of Geoffroy Roux de Bézieux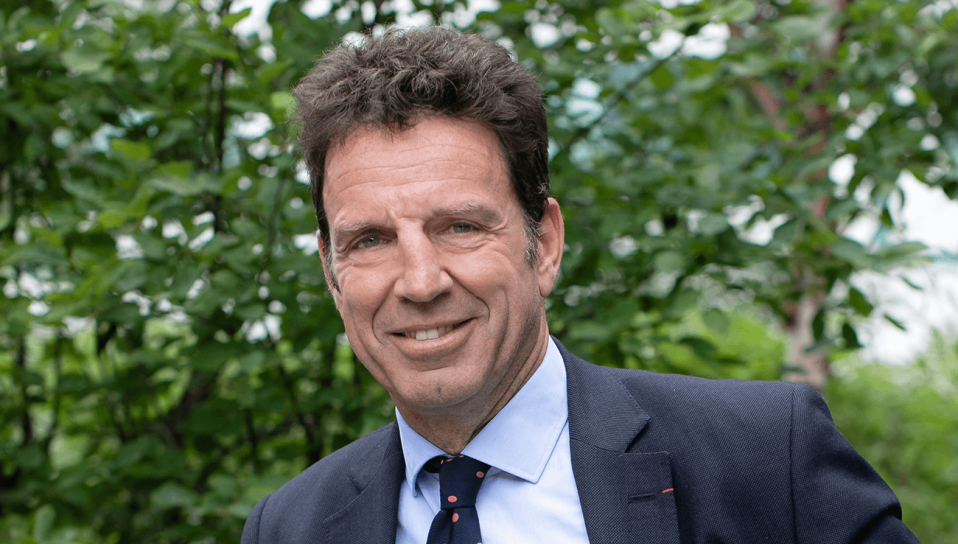 Geoffroy Roux de Bézieux is the President of the MEDEF since July 3, 2018. He is elected for 5 years.
22 years experience as an entrepreneur
Founding President of NOTUS-TECHNOLOGIES
President of MEDEF since 3rd July 2018
Graduate of ESSEC and a DESS at the Université Paris-Dauphine
55 years old, married to Sabine, foundation president, 4 children.
Professional experience
In 2014 he founded NOTUS-TECHNOLOGIES, a 100% heritage group active in the agri-food industry, leisure and new technologies (€40M in turnover - of which a major part is international - 250 employees).
He then joined the L'OREAL group for 10 years where he held numerous positions in France and abroad, notably marketing manager in England, then general manager in Poland.
In 1996, at 34 years old, he founded THE PHONE HOUSE, the first chain of shops entirely dedicated to mobile phones. In 8 years the business opened 200 points of sales and achieved a turnover of €200M. To finance this group, he brought in capital from an English company: THE CARPHONE WAREHOUSE. This group was listed in London in 2000 and took control of THE PHONE HOUSE. He became the Managing Director and developed THE PHONE HOUSE across Europe from 2000-2004. When he left the company had 2,000 stores, 10,000 employees and a turnover of £1m.
In 2004 he pursued his career as an entrepreneur by founding the company OMEA TELECOM, which launched BREIZH MOBILE, the first alternative mobile operator (MVNO). In 2006 he persuaded the VIRGIN group to invest in this project and launched VIRGIN MOBILE. Numericable bought back OMEA TELECOM in December 2014 for €325M. The business then had 1.8 million customers and a turnover of €460M.
In 2014 he created the group NOTUS TECHNOLOGIES, of which he is the full owner.
Other engagements as a business director
He is Vice-President of the Peugeot SA industrial group supervisory board and a Parrot board member. He has also spent time as a board member at IMS, Seloger.com, Micromania, Budget Telecom, and Nocibé.
Since 2000 he has been an Angel investor for many start-ups contributing to the rise of French Tech. In 2009 he created ISAI with Pierre Kosciuzko-Morizet, Ouriel Ohayon and Stéphane Treppoz, an investment fund for Internet entrepreneurs. Directed by Jean-David Chamboredon (co-president of France Digital), ISAI sets the French standard for backing start-ups which are transforming the economy (1st fund to have invested in Blablacar).
Positions
At the end of his studies he enlisted in the Special Forces (Marine Commandos) which whom he intervened in Africa and Lebanon. Today he is a reserve Naval Captain.
Between 2003 and 2008 he was vice-president then president of CroissancePlus, the association for growth entrepreneurs. He has also been a member of the France Investment Council and participated in the Attali Commissions. He has also been Vice-President of the Fédération Française des Télécoms.
Between 2008 and 2012 he was vice-president and president of Unedic for MEDEF and vice-president of the Employment Centre.
The NOTUS Company is a member of the MEDEF Loire-Atlantique, the MEDEF Hauts-de-Seine, the l'UDE 04, the UP06 and of the UP Ariège-Pyrénées.
Since July 2013 he has been assistant Vice-President and treasurer of MEDEF, in charge of the economic centre, which includes taxation, innovation, sustainable development and digital technology. In this position he founded the Digital University, which MEDEF has organised for the past 4 years.
Finally, with his wife, he founded a charitable foundation, the ARAOK Foundation ("forward" in Breton), under the aegis of the Fondation de France which financially supports humanitarian associations.
He is a Knight of the Légion d'Honneur and Officer of the Ordre national du Mérite
Author of two works: "Salauds de Patrons ! Pourquoi les Français n'aiment plus leurs chefs d'entreprise ?" (Hachette, 2007) and of "Pour sortir de la crise, le capitalisme" (Editions du Moment, 2011). He is a longtime rugby player, marathon-runner and triathalete (Ironman).
Our website uses cookies to offer you optimal navigation and personalized content.
By continuing your browsing on our site, you agree to the use of cookies.
Learn More